Tax Issues For Delaware, OH Divorces
Tax issues specialists with over 59 years of experience.
tax issues in divorce cases
Division of property
in a divorce means the parties must reach agreements about dividing assets and property, and they also need to decide how to divide liabilities. At the Lawrence Law Office, we know from experience that tax issues in divorce cases are complex and an area of dispute that requires an attorney's advice to resolve. Our Delaware OH Tax Attorney helps clients deal with touchy tax issues that surface during a divorce negotiation, litigation and when post-divorce modifications are needed.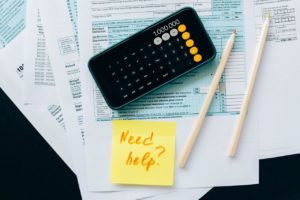 Our attorneys have extensive experience helping clients meet the rules of Ohio Family Law. People need help when relationships end in divorce or separation, and sometimes after the divorce is granted. Many issues confronted during a divorce relate to assets, retirement funds, transfer or sale of property, debts and liabilities. Most people think of alimony, child support and visitation as the main issues to deal with, but we know there is much more to settle during this process.
Attorneys and partners Linda J. Lawrence and Rodd S. Lawrence have helped numerous Ohio clients work through complex and emotion-laden divorce issues like visitation, child support and spousal alimony. In addition, people must decide who will pay debts and have tax responsibilities, and how to deal with new estate planning matters. Tax issues in divorce cases include more than just one-time taxation. Ongoing taxation is tied closely to spousal support, child support and the division of property as well.
Had free consultation. Advice given was taken, and resulted in change of mind in the other/opposing party. We therefore did not need to retain. Should opposing party resume original opinion, we will retain.

Kit
I was in a terrible custody dispute with my ex. I was very upset and afraid of my ex. Rodd listened to everything I said and remembered everything I said. He was aggressive in court and used the information I gave him very well. We won the case and my ex has backed off.

anonymous
I wanted an easy divorce from my wife. She wanted a fight. Rodd and I discussed fair terms for a dissolution. Because he was pro active and stayed on top of the case, my wife and I finally reached an agreement and had a dissolution. I highly recommend Rodd.

anonymous
I hired Linda Lawrence because I have a business and I wanted to protect it in my divorce. Linda is top notch and knows about business finance and assets. I was able to keep my business and not have to pay my wife anything from it. Hire her.

Linda
I hired Linda Lawrence because I needed an aggressive attorney. Linda was able to stand up against the other attorney and was very aggressive in court. It was an expensive divorce case, but that was because the other attorney was very aggressive and Linda was very thorough. I had great results in my case and highly recommend Linda.

Joy
VIEW MORE TESTIMONIALS
Is it possible to keep your home after filing for bankruptcy?
Yes, in many cases it is possible to keep your home and work out a 5-year plan to get back on strong financial footing. Chapter 13 bankruptcy is designed for those who have assets they wish to keep such as a home, car, or other important property.
Many clients filing for bankruptcy are able to settle outstanding debts including foreclosure and late mortgage payments for a small portion of what is actually owed. In most cases, Chapter 13 allows us to work together to establish a payment plan that is comfortable for you based on your income.
It is important to begin planning as soon as possible and to seek the counsel of experienced and proven professionals at the Lawrence Law Office. We invite you to contact our office to schedule a complimentary consultation. After this, we can begin to work together to find options for your unique circumstances. We will establish a process that will work for you, a process that will lead you out of the pressure of financial problems and into a brighter future.
Ohio taxes affect everyone, but during a divorce, the parties involved may try to swing a more favorable tax break in their own direction. Some items like support or alimony are deductible by the person making the payments. At the same time, certain items with cash value may be considered to be taxable income to the person receiving payments. Property distributions, divisions of stocks, bonds, IRAs, pensions and other investments also have tax consequences and advantages. We work diligently for tax solutions that are in our client's best interest.
Contact us
Ohio general consumer sales tax charged at 5.75% is an important detail to consider when you are getting a divorce, because some property distributions are taxable by the state. When you file for divorce can also affect your personal taxes. If you file before December 31st, you may have tax advantages. Your Delaware OH Tax Attorney knows all the little details of state and federal taxation. At Lawrence Law Office, you get personal attention and experienced legal advice on tax matters, Family Law issues and other legal matters that affect your future.
We also offer specific solutions related to child support, mortgages, property settlement, debt allocation and spousal support payment options which can help to minimize the impact of a divorce on your tax burden. Contact our Delaware, OH, law office now to learn how our experienced Tax Attorneys can help you. Call Attorney Linda J. Lawrence at the Lawrence Law Office now, at (740) 363-0990.