Grandparent Visitation Help Delaware, OH
Serving the greater Columbus, Franklin county and Central Ohio areas.
Schedule a consultation
Grandparents Visitation Laws in Ohio
Grandparent Visitation specialists with over 59 years of experience.
Ohio Grandparent Visitation Lawyers
When couples divorce, relatives have a fear that family ties will be shattered. At the Lawrence Law Office, we are committed to protecting children's best interests throughout the divorce process.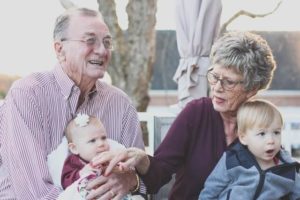 As a grandparent, we understand you may worry that your former daughter-in-law or son-in-law will box you out of your grandchild's life. We believe that during a time of uncertainty, your grandchild could benefit from maintaining a stable relationship with you. Our law firm's Ohio family law attorneys are committed to helping you secure your grandparent visitation rights. Child custody and visitation matters do not need to be handled in a combative manner.
Our law firm offers alternative dispute resolution services to help families reach amicable agreements to preserve children's best interests. Contact our law firm today to schedule a consultation and learn how we can help you resolve custody and dispute matters outside of trial.
Attorneys Helping Grandparents Obtain Visitation Rights in Ohio
No two divorces are the same. At the Lawrence Law Office, we offer a comprehensive approach focused on understanding your family's unique dynamics and the circumstances involved. We understand you may fear losing contact with your grandchild if your former daughter-in-law or son-in-law has been given primary custody rights.
We are committed to helping you maintain a relationship with your grandchild. Our family law firm offers alternative dispute resolution services to avoid unnecessary disputes and protect the children's best interests. One of our divorce attorneys, Linda Lawrence, is a certified mediator. She is available to work as a third-party neutral mediator focused on helping all parties involved find common ground. Mediation is a valuable way to work through emotional issues outside of a combative process.
Our law firm also offers collaborative law services to help clients resolve grandparent visitation matters. If you choose collaboration, we will represent you. All negotiations occur with both attorneys and both parties present. Nothing is done in secret. This would allow you to reach a resolution outside of litigation.
Had free consultation. Advice given was taken, and resulted in change of mind in the other/opposing party. We therefore did not need to retain. Should opposing party resume original opinion, we will retain.

Kit
I was in a terrible custody dispute with my ex. I was very upset and afraid of my ex. Rodd listened to everything I said and remembered everything I said. He was aggressive in court and used the information I gave him very well. We won the case and my ex has backed off.

anonymous
I wanted an easy divorce from my wife. She wanted a fight. Rodd and I discussed fair terms for a dissolution. Because he was pro active and stayed on top of the case, my wife and I finally reached an agreement and had a dissolution. I highly recommend Rodd.

anonymous
I hired Linda Lawrence because I have a business and I wanted to protect it in my divorce. Linda is top notch and knows about business finance and assets. I was able to keep my business and not have to pay my wife anything from it. Hire her.

Linda
I hired Linda Lawrence because I needed an aggressive attorney. Linda was able to stand up against the other attorney and was very aggressive in court. It was an expensive divorce case, but that was because the other attorney was very aggressive and Linda was very thorough. I had great results in my case and highly recommend Linda.

Joy
VIEW MORE TESTIMONIALS
Upper Arlington Child Custody Attorneys Working for You
Our law firm offers strong advocacy and legal counsel when children's best interests are at risk. If you are a grandparent concerned about your grandchild's wellbeing, entrust our law firm to protect your grandchild's best interests. We have a strong background handling emotionally complicated cases when parents are allegedly abusing or neglecting their children. We have access to psychologists and other industry-leading experts invaluable in helping us modify the custody arrangement in the child grandchild's best interests.
Contact us
Contact Our Delaware Grandparent Visitation Lawyers
If you have concerns about losing contact with your grandchild because of a child relocation and are located in Delaware, Columbus, New Albany, Westerville, Worthington, Powell, Dublin, Lewis Center, Shawnee Hills, Hilliard, Upper Arlington, Marysville, Sunbury, Ostrander, Waldo, Plain City, Centerburg, Franklin County, Delaware County, Marion County, Morrow County, Union County, Knox County or elsewhere in Ohio, call us at 740-363-0990 today to schedule a confidential consultation. We will work with you to explain your options and how we can protect your grandchild's best interests. Visa and MasterCard are accepted.