Same-Sex Couples & Child Custody
Serving the greater Columbus, Franklin county and Central Ohio areas.
Schedule a consultation
Delaware, OH Same-Sex Custody Lawyers
Same-Sex Couples & Child Custody specialists with over 59 years of experience.
OHio Same-Sex Couples & Child Custody Lawyers
At Lawrence Law Office, we are solutions-oriented and creative advocates for our clients. We work closely with families to find creative solutions that focus on their needs and goals, as well as what is in the best interests of the children. From both Delaware & Columbus, our law firm represents same-sex family law clients throughout Ohio including New Albany, Westerville, Worthington, Powell, Dublin, Lewis Center, Shawnee Hills, Hilliard, Upper Arlington, Marysville, Sunbury, Ostrander, Waldo, Plain City, Centerburg, Franklin County, Delaware County, Marion County, Morrow County, Union County and Knox County. Contact us today for sound legal representation and nonjudgmental advocacy.
We Can Help You Draft Co-Custody Agreements to Acknowledge a Partner's Rights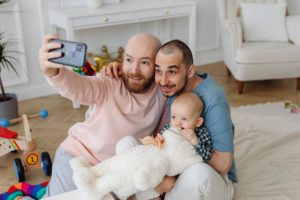 Ohio courts do often recognize co-custody agreements that are negotiated, drafted and executed in good faith by unmarried couples, including same-sex couples. This document can grant the same rights and responsibilities of a natural or adoptive parent. A co-custody agreement can also be augmented to include additional terms that both parties agree to and are believed to be in the best interest of the child.
At our Ohio family law firm, we carefully draft co-custody agreements to comply with guidelines of the court and to withstand legal challenges from an extended family member or other interested party who might try to assert custody rights. However, if this does happen or a same-sex relationship ends and there is a dispute, you can trust that we will be your aggressive advocate in and out of court.
Had free consultation. Advice given was taken, and resulted in change of mind in the other/opposing party. We therefore did not need to retain. Should opposing party resume original opinion, we will retain.

Kit
I was in a terrible custody dispute with my ex. I was very upset and afraid of my ex. Rodd listened to everything I said and remembered everything I said. He was aggressive in court and used the information I gave him very well. We won the case and my ex has backed off.

anonymous
I wanted an easy divorce from my wife. She wanted a fight. Rodd and I discussed fair terms for a dissolution. Because he was pro active and stayed on top of the case, my wife and I finally reached an agreement and had a dissolution. I highly recommend Rodd.

anonymous
I hired Linda Lawrence because I have a business and I wanted to protect it in my divorce. Linda is top notch and knows about business finance and assets. I was able to keep my business and not have to pay my wife anything from it. Hire her.

Linda
I hired Linda Lawrence because I needed an aggressive attorney. Linda was able to stand up against the other attorney and was very aggressive in court. It was an expensive divorce case, but that was because the other attorney was very aggressive and Linda was very thorough. I had great results in my case and highly recommend Linda.

Joy
VIEW MORE TESTIMONIALS
Skilled Co-Custody Dispute and Litigation Representation
Same-sex custody matters are handled in juvenile court, rather than family court. The terminology and legal standards are markedly different and the court rulings are varied. We have experience handling these issues in this venue.
If there is a valid co-custody agreement, Ohio courts have tended to honor some form of continuing relationship with the child if a same-sex couple relationship ends. A co-custody agreement also usually stipulates that if the birth mother dies or if the partnership ends in a "divorce," the nonbiological co-parent has standing to apply for custody or visitation. This agreement can also state what type of custody arrangement should take effect if a relationship ends between other types of couples, including two men, couples who adopt or couples who use a surrogate.
One of our family law attorneys, Linda Lawrence, is also a certified mediator. She is available to work as your lawyer and advocate or as neutral third-party mediator to help you and your partner find common ground in establishing the terms of a co-custody agreement that you can both agree to. Our law firm also has a strong background negotiating fair and creative terms outside of litigation through the use of collaborative law.
Contact us
Contact a Detailed Child Custody Attorney in Delaware
Handling your custody concerns using an experienced family law attorney can often save you time, money, stress from the beginning and unnecessary strain on your relationships if your union does come to an end. You can feel confident knowing we are committed to protecting your interests as well as what is in the best interest of the child without causing a fight and damaging your future relationship with your children and your former partner.
To establish co-custody rights or to find out where you stand in a child custody dispute, call 740-363-0990 to learn how we can protect your best interests throughout the legal process.