Adoption Help in Delaware, OH
Serving the greater Columbus, Franklin county and Central Ohio areas.
Schedule a consultation
Adoption specialists with over 59 years of experience.
Delaware, OH Adoption Lawyers
One of the most fulfilling roles an attorney plays is to help families grow through the adoption process. This is also one of the most complicated areas of the law. Every detail has to be addressed in the children's best interests.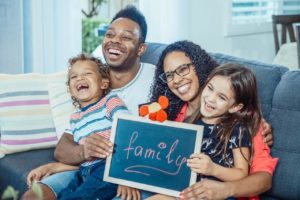 At the Lawrence Law Office, we are committed to helping parents fulfill their ambitions to legally unite their family through the adoption process. Our Delaware adoption attorneys have more than two decades of experience handling stepparent adoptions, grandparent adoptions and agency adoptions. We will apply our years of experience and legal skills to help your growing family navigate through the legal process. Contact our family law firm to schedule a consultation in Delaware or Columbus, Ohio.
A hundred years from now, no one will remember the size of your bank account, the car you drove or the square footage of your house. The world might differ greatly however, based on your impact in the life of a small child. — Ridgely Goldsborough
Guiding Ohio Clients Through the Entire Adoption Process
Adopting a child can be an extremely rewarding, yet emotional time for everyone involved. Families often experience several highs and lows while eagerly waiting for the adoption to be finalized. Our  Columbus family lawyers have extensive experience handling contested and uncontested adoptions. We offer a comprehensive approach focused on guiding clients through the adoption process for any type of adoption, such as:
Stepparent adoptions — This type of adoption is designed to provide stepparents with legal custody of their stepchildren. If the stepchild's biological parent is alive, he or she would need to terminate their parental rights before the adoption process could move forward. Our law firm has a strong background handling contested and uncontested stepparent adoptions based on the children's best interests.
Grandparent adoptions — At the Lawrence Law Office, we have a strong background helping grandparents legally adopt their grandchildren. This type of adoption can be particularly challenging if the child's biological parent does not want to give up his or her parental rights. We offer a compassionate approach to protect the children's best interests, if the biological mother or father is unfit to parent based on alcohol use, drug addiction or other factors.
Agency adoptions — Our law firm has extensive experience handling open and closed agency adoptions. We are well connected to adoption agencies throughout the United States and abroad. Our legal team is committing to helping adoptive parents or birth moms navigate through the legal process in the child's best interest.
Had free consultation. Advice given was taken, and resulted in change of mind in the other/opposing party. We therefore did not need to retain. Should opposing party resume original opinion, we will retain.

Kit
I was in a terrible custody dispute with my ex. I was very upset and afraid of my ex. Rodd listened to everything I said and remembered everything I said. He was aggressive in court and used the information I gave him very well. We won the case and my ex has backed off.

anonymous
I wanted an easy divorce from my wife. She wanted a fight. Rodd and I discussed fair terms for a dissolution. Because he was pro active and stayed on top of the case, my wife and I finally reached an agreement and had a dissolution. I highly recommend Rodd.

anonymous
I hired Linda Lawrence because I have a business and I wanted to protect it in my divorce. Linda is top notch and knows about business finance and assets. I was able to keep my business and not have to pay my wife anything from it. Hire her.

Linda
I hired Linda Lawrence because I needed an aggressive attorney. Linda was able to stand up against the other attorney and was very aggressive in court. It was an expensive divorce case, but that was because the other attorney was very aggressive and Linda was very thorough. I had great results in my case and highly recommend Linda.

Joy
VIEW MORE TESTIMONIALS
Our Adoptions Attorneys Are Here to Help
The adoption process can be overwhelming. You do not have to face this milestone alone. We've helped many individuals in Delaware, Columbus, New Albany, Westerville, Powell and other cities throughout Ohio. Our law firm has the skills and legal resources to help you guide through the adoption process making sure the critical details and deadlines are appropriately met. Contact us today at 740-363-0990.
Contact us